The New Visceral Manipulation Manual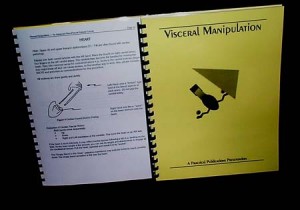 Based on the Neurofascial Release Paradigm
Hot off the presses.
If you've taken the class and want to refresh your memory or if you will be taking the class and want some great ideas to put into practice right away.
The Visceral Manipulation Manual answers your need!
The notes, illustrated with simple to follow instructions and illustrations for hand positions, follow the course's chronological development.
The cover, laminated for protection, has been GBC comb-bound to lie flat as you review the material. That means no more using water glasses to hold the corners down while you practice.
You'll find a blank left hand page facing the course materials. That page is for your own notes, questions, experiences and reminders.
A list of illustrations at the front of the manual help you quickly find the visceral techniques you wish to review.
This manual took more than one year to produce in its current final form. Both Dr. Malina and Dr. Davidson, recognized experts in the NeuroFascial Release Paradigm, carefully reviewed the material for ease of learning and understanding.
Over One Thousand Copies Yet To Be Sold So ….
Get Yours Today!
We want our customers to find this work helpful, innovative and informative. That is why we offer this strong guarantee:All sales are final only when you are satisfied.
100% money back guarantee including shipping.